150
1959
Serial Numbers
17001 – 17683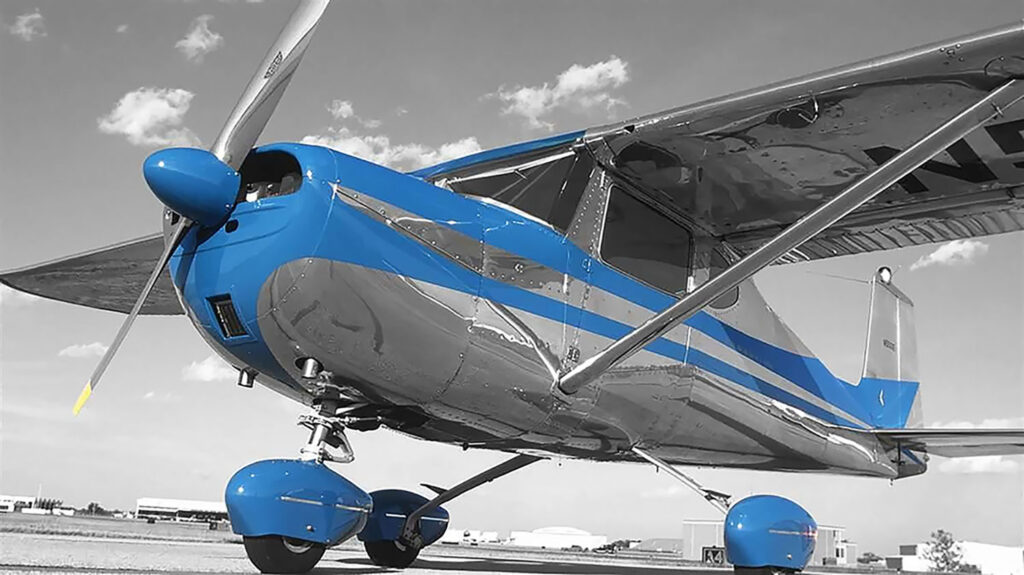 Performance
SPEED:
Top Speed at Sea Level: 124 mph.
Cruise (70% @ 9000′) : 121 mph.
RANGE:
Cruise (No allowance): 520 mi. – 4.3 hrs @ 121 mph.
Max Range @ 10,000′ : 630 mi. – 6.3 hrs @ 95 mph.
PERFORMANCE:
Rate of Climb @ Sea Level: 740 fpm
Service Ceiling: 15,300′

FUEL CAPACITY:
Standard: 26 gal.
ENGINE: Continental 0-200A
Power: 100 hp.
TBO: 1,800 hours
DIMENSIONS:
Wingspan: 33′ 4″
Wing Area: 160 sq ft
Length: 21′
Height: 6′ 11″

LOADING:
Wing Loading: 9.4 lbs / sq ft
Power Loading: 15.0 lbs / hp
WEIGHT:
Gross Weight: 1500 lbs
Empty Weight: 962 lbs
Useful Load: 538 lbs
BAGGAGE: 80 lbs.
Introduced in October 1958, the Cessna 150 is a two place, side by side, tricycle gear, all metal high wing aircraft designed and built for the training market.
The 150 came in three versions: the Standard, the Trainer, and the Commuter. The Standard was a bare bones airplane with a base price of $6,995. The Trainer came with dual controls and brakes, a landing light, clock, sun visors, OAT gauge, cigarette lighter, turn and bank indicator, and a Narco Superhomer VHF/VOR with 9 crystals. The top-of-the-line Commuter had all of the above plus a vacuum system with attitude and direction indicators. 
All models featured tricycle landing gear, 40 degree manually operated "Para-Lift" flaps, and a 100 horsepower Continental 0-200 engine. TBO was initially set at 600 hours but was increased to 1,800 hours late in the model year as the engine proved its reliability. The airplane also had a 14 volt 20 amp generator, 26 gallon fuel capacity, and optional wheel fairings.
Production commenced in late 1958 as the 1959 model year.