Gordon Ellis Award
Gordon Ellis, of Cheyenne, Wyoming, call sign Tinman, flew his polished 1959 Cessna 150 to Clinton every year from the beginning to 2010. Gordon always arrived early, volunteered to help run the fly-in, and stayed afterwards to help clean up. He was a generous contributor to the fly-in, providing many of the banquet door prizes, and even took out an ad promoting the fly-in in Trade-A- Plane at his own expense! All of this without expecting anything in return. Gordon was a cherished friend to many Fly-In regulars, and was voted Cessna 150-152 Club Member of the Year in 2003. A long time aviator, Gordon was awarded the FAA Master Pilot award shortly before he flew west in March of 2015.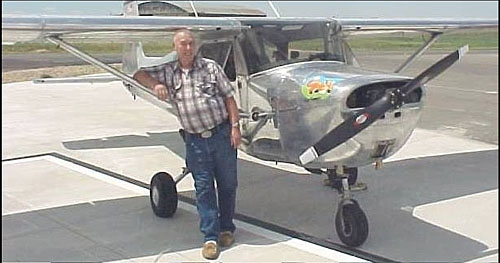 In tribute to Gordon, the Cessna 150-152 Fly-In Foundation established the Gordon Ellis Spirit Award in 2010. It is the highest award presented at the Fly-In. The Gordon Ellis Award is presented annually to the member that has displayed the highest level of enthusiasm, and Esprit-de-Corps towards the Cessna 150-152 Fly-In and the Cessna 150-152 Fly-In Foundation and its membership. These qualities were the essence of Gordon Ellis. Ever-friendly, helpful, with a positive "can-do" approach and personality.
Congratulations to the Cessna 150-152 Fly-In Foundation's Gordon Ellis Award honorees.